Jana Mana Gana & Tagore

A malicious E Mail has been circulating stating that Ravindranath Tagore composed the famous song Jana Gana Mana to welcome George V and Queen Mary for Delhi Darbar and it should not be our national anthem.

Our friend Ashok Athawale was informed of this by his nephew in June 2000. He sent it to Godbole of England who has been fighting this foolhardy accusation ever since.

Very briefly this is what it says -

National Anthem

Read this. It is really interesting! I will not be surprised if after some research, it turns out to be true.

I have always wondered who is the "adhinayak" and "bharat bhagya vidhata", whose praise we are singing. I thought may be God ! Our current National Anthem " Jana Gana Mana " is sung throughout the country. Did you know the following about our national anthem, I didn't. This is actually very surprising but common

that most of us have never paid heed to actually understand it truly. Please go thru it and decide yourself. Fifty years of independence have come to pass and now nearly 900 million Indians take pride in singing their national anthem, it is amazing that most are not aware of its background and meaning. We would like

to bring to your attention the following facts of which you might be unaware.

To begin with, India's national anthem, Jana Gana Mana Adhinayaka, was written by Rabindranath Tagore in honour of King George V and the Queen of England when they visited India in 1919. To honour their visit Pundit Motilal Nehru had the five stanzas included, which are in praise of the King and Queen. (And most of

us think it is in the praise of our great motherland !!!)

[ False - George V visited India in 1911 and not in 1919]

In the original Bengali verses only those provinces that were under British rule, i.e. Punjab, Sindh, Gujarat, etc. were mentioned. None of the princely states were recognized which are integral parts of India now - Kashmir, Rajasthan, Andhra, Mysore or Kerala. Neither the Indian Ocean nor the Arabian Sea were included, since they were directly under Portuguese rule at that time.

[False again Portuguese did not control the Arabian Sea or the Indian Ocean. It was the British who ruled over all the seven seas]

The Jana Gana Mana Adhinayaka implies that King George V is the lord of the masses and Bharata Bhagya Vidhata is "the bestower of good fortune".

Following is a translation of the five stanzas which glorify the King:

1st stanza

(Indian)People wake up remembering your good name and ask for your

blessings and they sing your glories.

2nd stanza

Around your throne people of all religions come and give their love and anxiously wait to hear your kind words.

3rd stanza

Praise to the King for being the charioteer, for leading the ancient travellers beyond misery.

4th stanza

Drowned in the deep ignorance and suffering, poverty stricken, unconscious country? waiting for the wink of your eye and your mother's (the Queen's) true protection.

5th stanza

In your compassionate plans, the sleeping Bharat (India) will wake up.

We bow down to your feet oh Queen, and glory to Rajeshwara (the King)

---------------------

<![if !supportEmptyParas]> <![endif]>

This whole poem does not indicate any love for the Motherland but depicts a bleak picture.

When you sing Jana Gana Mana Adhinayaka, whom are you glorifying? Certainly not the Motherland.

Is it God? The poem does not indicate that. It is time now to understand the original purpose and the implication of this, rather than blindly sing as has been done the past fifty years.

Nehru chose the present national anthem as opposed to Vande Mataram because he thought that it would be easier for the band to play. It was an absurd reason but Today for that matter bands have advanced and they can very well play any music. So they can as well play Vande Mataram, which is a far better composition in praise of our dear Motherland - India.

Wake up, it's high time!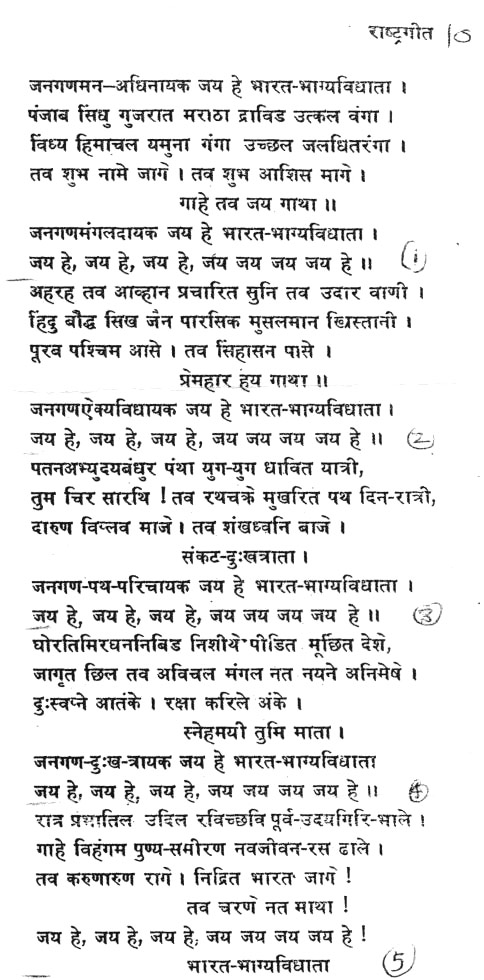 Above text is found on page No.229 of Khand (volume) 8 of Bharatiya Sanskrutikosh.
in Marathi by Mahadevshastri Joshi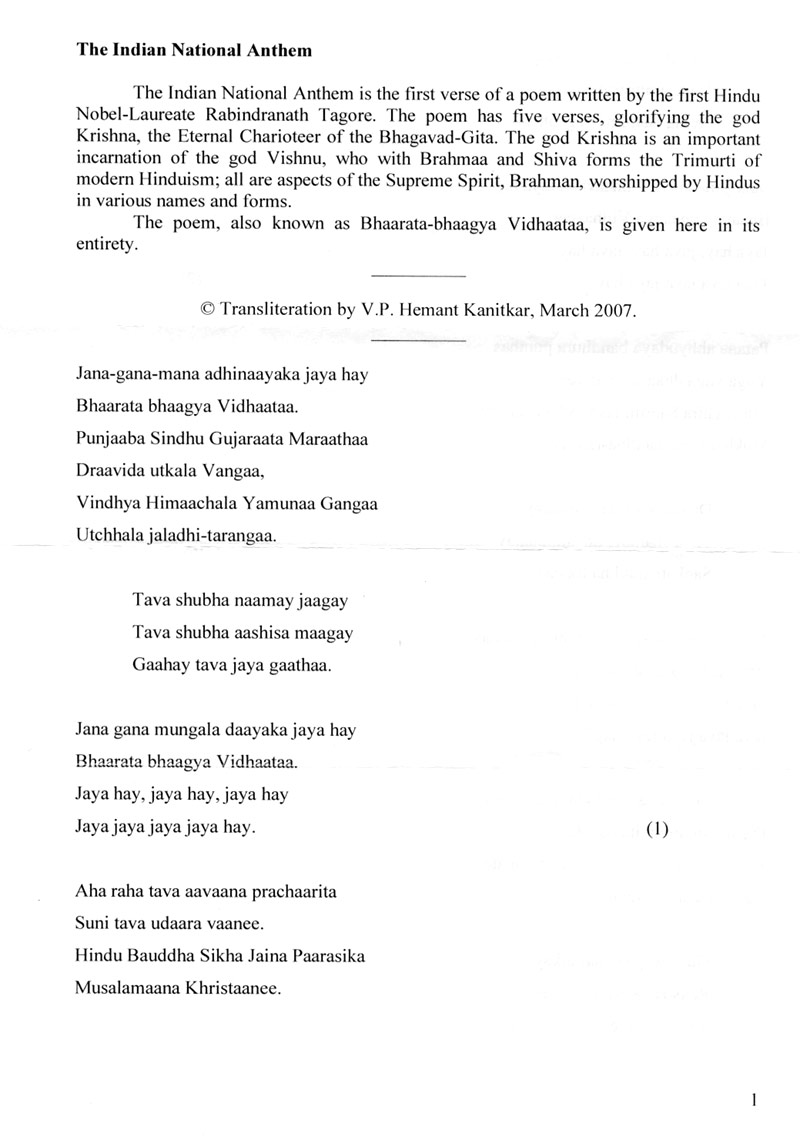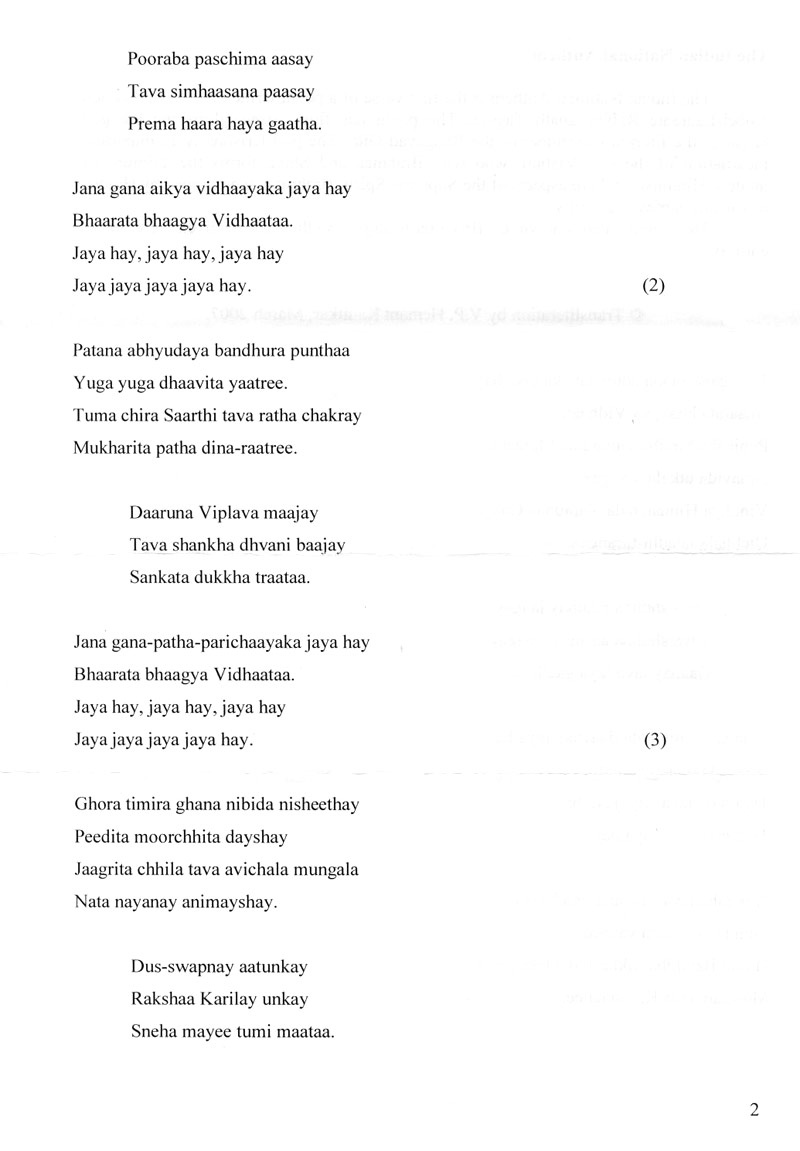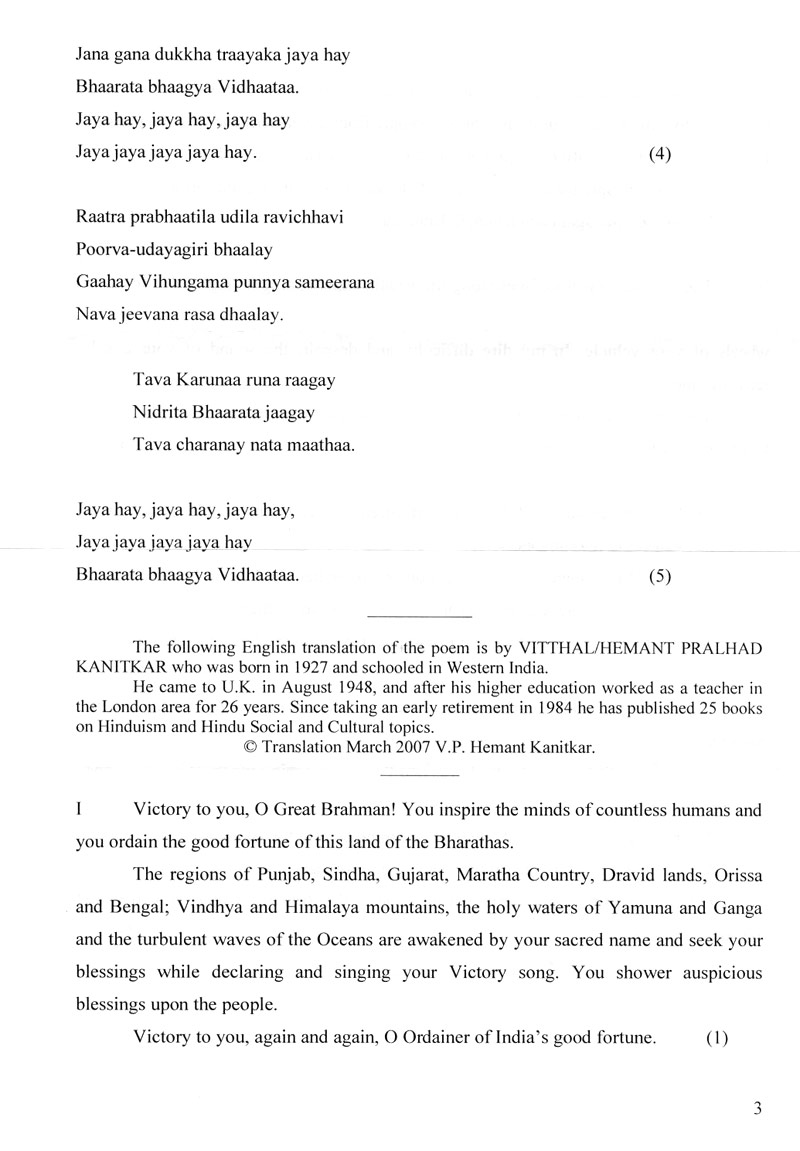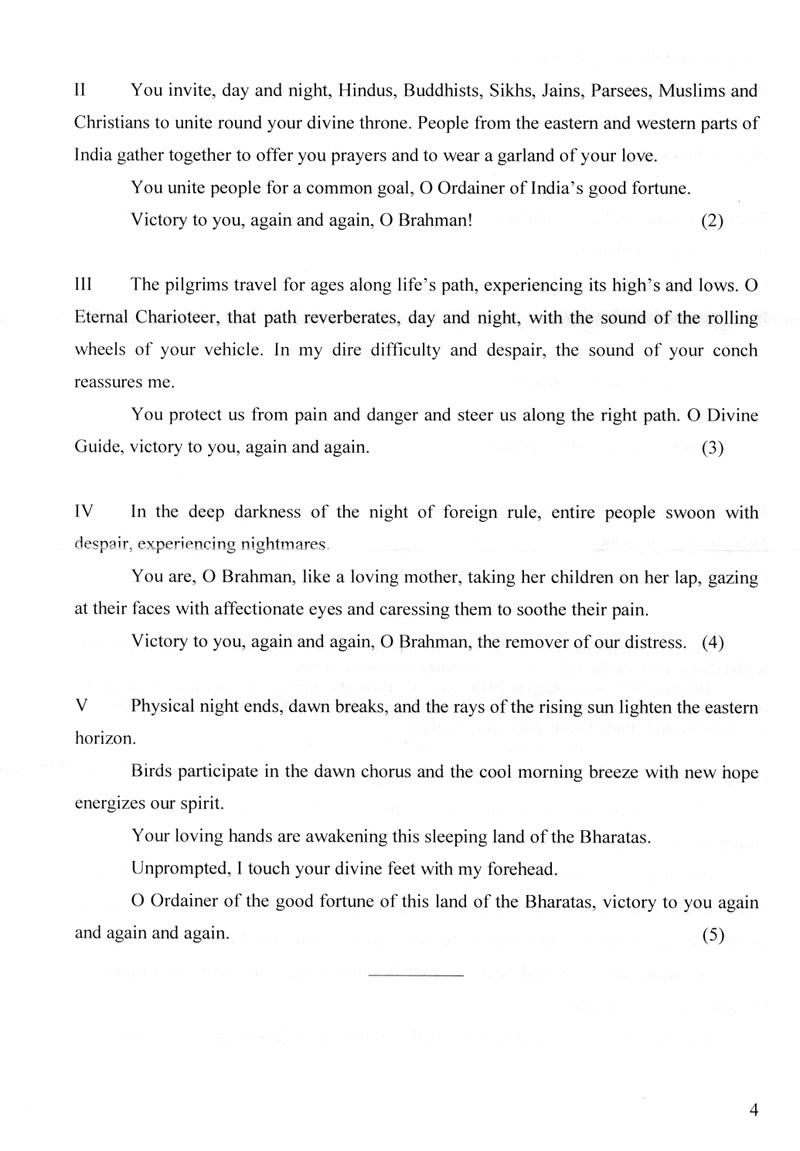 ---
Below is P L Deshpande's letter published in
Maharashtra Times on 16 May 1980.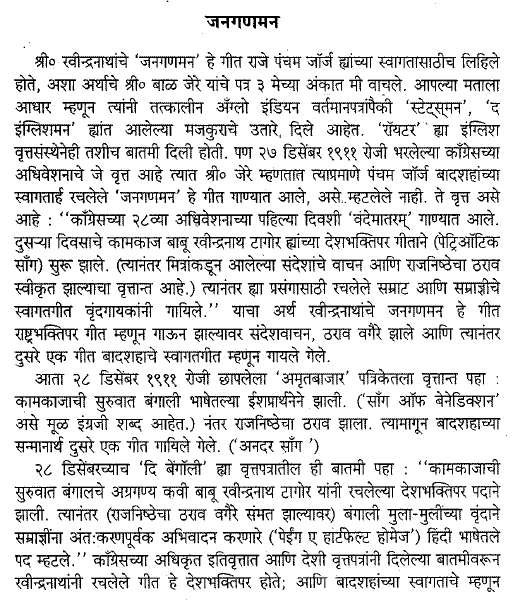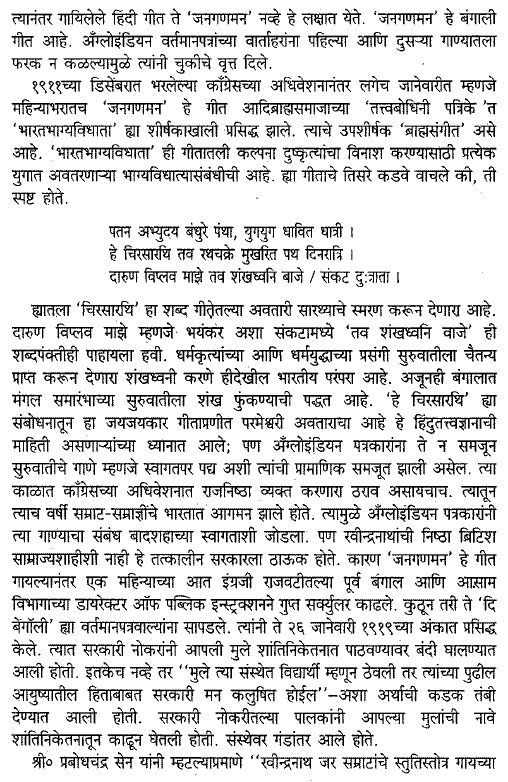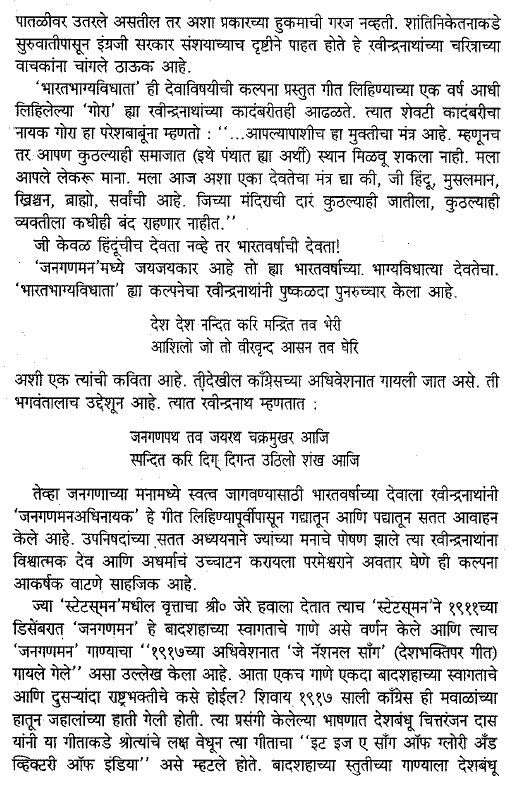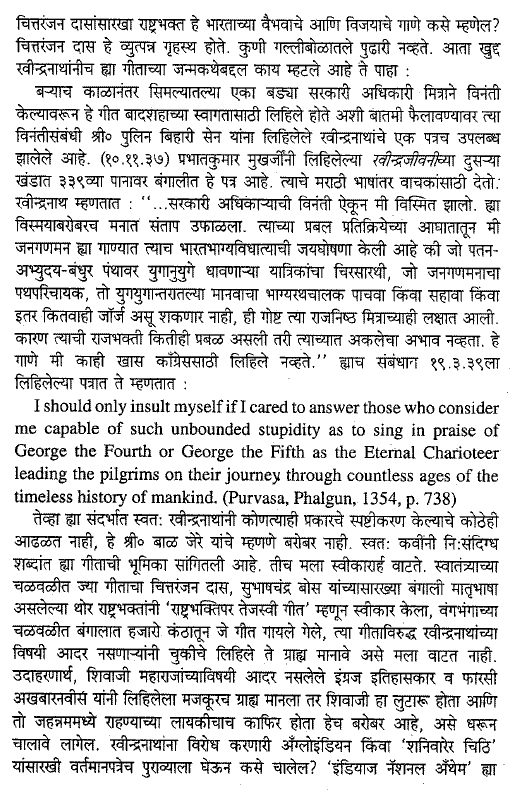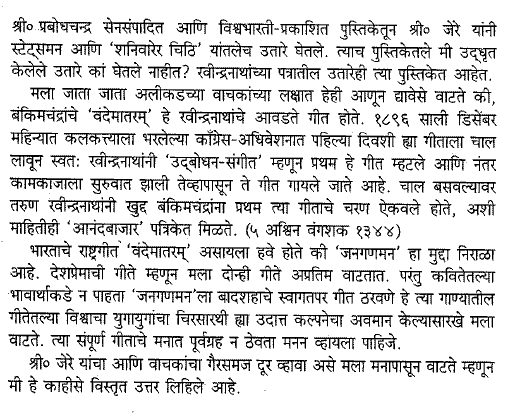 Jana Gana Mana - an explanation by Mr P L Deshpande
In the issue of 3 May 1980 of Maharashtra Times of Mumbai I read a letter by Mr Bal Jere. He states that Ravindranath Tagore definitely composed the famous song Jana Gana Mana to welcome King George V. In support of his argument he refers to the issues of contemporary Anglo-Indian papers like the Statesman and the Englishman.
[ Note - The term Anglo Indian does NOT mean people of mixed race. It means British people in India. The papers run by them were called the Anglo-Indian Press, whereas papers run by Indians were called the Native opinion] Reuter, the famous English news-agency had also reported in a similar fashion.
However, the report of the annual session of the Indian National Congress of December 1911 does not say that Jana Gana Mana, which Mr Jere supposes to have been composed for welcoming King George V, was sung at its session for that purpose. The news item is like this -
On the first day of 28th annual session of the Congress, proceedings started after singing Vande Mataram. On the second day the work began after singing a patriotic song by Babu Ravindranath Tagore. Messages from well wishers were then read and a resolution was passed expressing loyalty to King George V. Afterwards the song composed for welcoming King George V and Queen Mary was sung. Thus there is clear distinction between the song composed by Tagore and the one composed by some one else for welcoming King George V and Queen Mary.
Now let us turn to the issue of Amritbazar Patrika dated 28 December 1911. It reported, "The proceedings of the Congress party session started with a prayer in Bengali to praise God (song of benediction). This was followed by a resolution expressing loyalty to King George V. Then another song was sung welcoming King George V.
On 28 December The Bengalee (paper of Surendranath Banerjee) reported, "The annual session of Congress began by singing a song composed by the great Bengali poet Babu Ravindranath Tagore. Then a resolution expressing loyalty to King George V was passed. A song paying a heartfelt homage to King George V was then sung by a group of boys and girls."
Thus it is quite clear that in the official record of the Congress Party as well as in the newspapers run by Indians, that the song composed by Ravindranath Tagore was a patriotic song, and that the song that was sung afterwards welcoming King George V was NOT Jana Gana Mana. The Anglo-Indian papers did not know the difference between the two songs and therefore created a wrong impression.
Just one month after the annual session of Congress, i.e. in January 1912 Jana Gana Mana was published in the Tatvabodhini Patrika of Adi-brahmosamaj under the title Bharata Bhagya Vidhata, alternative title of the song is Brahmasangeet. The central theme, expressed by the phrase 'Bharat Bhagya-Vidhata' refers to the Avatar - descent of God - appearing in every age to destroy the evil and to protect the righteous. This is made clear in the third verse of the song.-
Patan abhyudaya bandhure pantha, yugayuga dhavit yatri
Tum chirasarathi tava rathachakray mukharita path dinaratri
Daruna viplava majay tava shankhadhwani bajay Sankata dhukha trata
Jana gana partha parichayaka jaya hay
Bharata bhagya vidhata
The phrase Chirasarathi (charioteer) clearly refers to the god Krishna in the Bhagvat-Gita, who is the 'Eternal Charioteer guiding the pilgrims who experience highs and lows as they travel along life's path. The poet says, "In my dire difficulty the sound of your conch reassures me." The blowing of a conch at the start of any religious ceremony and before a 'just war' (dharma-yuddha) is an ancient Indian / Hindu tradition. It gives us inspiration. In Bengal, even today, a conch is sounded at the beginning of an auspicious ritual (mangal karya). Those who are familiar with Hindu philosophy would know that the song celebrates the victory of the 'Eternal Charioteer' the god Krishna. The pro-British Anglo-Indian press, through ignorance, assumed the song to be a welcoming song for the King Emperor. In those days, during its annual sessions, the Congress invariably passed a resolution expressing loyalty to the British Crown. Moreover, in December 1911 King George V and his Queen were already in India (Delhi Darbar was held on 12 December 1911). So the reporters of the Anglo-Indian papers got mixed up, put two and two together and assumed that the song 'Jana Gana mana' was composed by Tagore to welcome the Emperor. But the British administrators in India were fully aware that Tagore did not support British Imperialism.
Just one month after Jana Gana Mana was sung at the Congress session, Director of Public Instructions (as it was called in those days. We would now call him Director of Education) for East Bengal issued a secret circular. Somehow it was discovered by the paper Bengalee and they published it in their issue of 26 January 1919. The circular had banned Government servants from sending their children to Shantiniketan. It also warned that if children remained in Shantiniketan, it will affect the service of those parents. After this threat many government servants withdrew their children from Shantiniketan, which was seriously affected by this Government circular.
Mr Prabodhachandra Sen says, "If Ravindranath had sunk so low that he would praise the British King Emperor, there was no need for such a government directive." Any one who has studied the life of Ravindranath knows that right from the start the British Authorities in India viewed his school Shantiniketan with suspicion.
We find the concept of Bharata Bhagya Vidhata in Tagore's novel Gora, one year before the song was composed. Towards the end of this novel, Gora the hero of the novel says to Pareshbabau, '…… only you possess the liberation mantra, that is why you have not gained any position of authority in any sect. Consider me your child and give me the mantra honouring a deity, respected by all sects (Hindu, Muslim, Christian, Brahmo and all others). The door to that deity's shrine will never be closed to people of any community, or person at any time. That deity is not just of Hindus but of all the people in this land, Bharatavarsha.
The glorification of the deity of all India is central to the idea of 'Bharata-bhagya-vidhata' in the song 'Jana-Gana-Mana.' Tagore has repeated that idea many times in his prose and poetry. One of his poems begins with the lines :-
Desha desha nanadita kari mandrita tava bheri
Ashilo jo to veera vrinda asana tava gheri.
[Your war drums and trumpets respond in all parts of India, blessing the brave who surround your throne.]
That poem, honouring the Supreme Deity, also used to be sung at the Congress Sessions.
The Poet says further
Jana gana patha tava
Jayaratha chakramukhara aaji
Spandita kari dig
Diganta uthilo shankha aaji
Meaning "The path followed by countless humans, today, reverberates by the sound of your chariot's wheels. Make all directions vibrate by the sound of your conch."
Thus, even before composing the song Jana Gana Mana, Tagore had been invoking the great God for arousing the masses and making them aware of their heritage and raising our self-respect. Ravindra Nath's mind had been nurtured through the study of the Upanishadas, and because of it, he was obviously attracted by the idea of God's Avatar on earth for the destruction of the evil.
Mr Jere refers to the paper Statesman which in December 1911 describes the song - Jana Gana Mana as a welcoming song for the King Emperor and in 1917 the same paper described it as 'a national (patriotic) song' while referring to the annual session of Congress in that year. How can the song serve two widely different purposes? Moreover in 1917 the Congress passed from being controlled by Moderates into the hands of Militants. At the annual session of Congress in 1917 Deshbandhu Chittaranjan Daas drew attention to this song and said, " It is a song for glory and victory of India." How can a great patriot from Bengal, like Daas who was an erudite scholar say that the song sung to welcome King George V was also a song for glory and victory of India? That is absurd.
Now let us see what Ravindranath himself has said about the reason behind composing Jana Gana Mana. For a number of years, a rumour was spreading that Tagore composed Jana Gana Mana to welcome King George V at the request of a high ranking government officer. On 10 November 1937 Tagore wrote a letter to Mr Pulin Bihari Sen about the controversy. That letter in Bengali can be found in Tagore's biography Ravindrajivani, volume II page 339 by Prabhatkumar Mukherjee. Ravindranath says, " I was stunned to hear of the request by a high ranking government officer. I was furious. In the song Jana Gana Mana I have praised the God Bharat Bhagya Vidhata who is the constant charioteer of travellers through the ages, he who guides through all the difficult circumstances, he who is born in many ages. He can never be King George V or VI or any other George. That truth dawned on my 'Loyal friend', because however strong his loyalty to the foreign rulers was, he was not devoid of intelligence. I also did not compose this song especially for the Congress."
Again in his letter of 19 March 1939 he writes, " I should only insult myself if I cared to answer those who consider me capable of such unbounded stupidity as to sing in praise of George the Fourth or George the Fifth as the Eternal Charioteer leading the pilgrims on their journey through countless ages of the timeless history of mankind.
(Purvasa, Phalgun, 1354, p738.)
Mr Jere is not therefore correct in saying that Ravindranath never gave any explanation. I accept Tagore's explanation as the spirit behind this song. During our freedom struggle, outstanding patriots from Bengal like Chittaranjan Daas and Subhashchandra Bose, had praised this song (Jana Gana Mana) as Patriotic and National. Thousands had sung it for gaining inspiration during our freedom struggle. Whatever has been written by those who did not like Tagore, must be discarded. Just as we must discard remarks about Shivaji by merchants of East India Company or Muslim chroniclers. In their opinion Shivaji was nothing but a bandit and was worth sending to hell. How can we rely on anti-Tagore Anglo-Indian papers or the likes of 'Shanivarer Chithi'? Mr Jere relies on the book Indian National Anthem edited by Mr Prabodhachandra Sen and published by Vishvabharati, which quotes Statesman and Shanivarer Chithi. But the same book also contains the references that I have quoted. Why did not Mr Jere consider those? The book also contains remarks by Tagore.
I want to say something in passing. Vande Mataram by Bakimchandra was also a favourite song of Ravindranath. In December 1896 Congress held its annual session in Calcutta. On the very first day Tagore selected a tune for this song and sang it. He called it an inspiring song, before the session started to deal with various matters. From this day onwards Vande Mataram used to be sung at annual sessions of the Congress. After setting it to music Tagore sang that song to Bakimchandra. We find this information in Anandbazar Patrika (5 Ashwin Vangashaka 1344).
Which one should be our national anthem? Vande Mataram or Jana Gana Mana? That is a separate issue. I consider both to be superb patriotic songs. But to denounce Jana Gana Mana without realising the meaning behind it and to say that it was composed to welcome King George V is insulting to Tagore. It is demeaning to the noble concept of the Charioteer through all the ages. We must study the full meaning behind that song and treat it with respect and without preconceptions.
I have written this letter to dispel misunderstanding of Mr Jere as well as your readers. Hence the long letter.

P L Deshpande Maharashtra Times
16 May 1980

---------------------------
A note by Dr V S Godbole of Bedford, England, who collected all the details about this song.
Mr Bal Jere was a trusted lieutenant of Veer Savarkar and had signed Savarkar's Will as a witness in 1964.
P L Deshpande, a humorist from Maharashtra was a blind follower of Gandhi and Nehru. His article on Jana Gana Mana is dated 16 May 1980. Whereas Mr Hemant Kanitkar is a Chitpavan Brahmin from the same province of Maharashtra, whose family suffered terribly by the anti-Brahmin riots in the Bombay province after the assassination of Gandhi on 31 January 1948. Kanitkar came to England and became a teacher. He gave his translation of Jana Gana Mana in May 2007 to Dr Godbole, some 27 years later after P L Deshpande's article. And yet the translations of both writers are same.
We also need to bear in mind that during the Delhi Darbar of December 1911, King George V had to openly declare that the partition of Bengal was annulled. The constant public agitation of eight years had born fruit. It was therefore natural for the Moderate leaders of the Indian National Congress to rejoice and welcome the King Emperor.
Readers should also refer to Bhagvat-Gita, chapter four- stanzas 7 and 8
Yada yada he dharmasya, glanirbhavati Bharat
Abhyuthanam adharmasya, tadamananm srujamyaham ||7 ||
Oh Arjuna, whenever the righteousness (Dharma) is in decline and evil spirit (Adharma) is spreading, I am born on the Earth (Avatar)
Paritranadaya sadhunam, Vinashaya cha dhushkrutam
Dharmasanthapanarthaya sambhavami yuge yuge || 8||
For defending and protecting the righteous people and for destruction of the devils
I am born in various ages for re-establishing Dharma.
This is the concept of Bharat Bhagya Vidhata in Tagore's poem.
I hope these two translations will dispel the darkness of ignorance spread by many Indians in the 21st century.
Readers will now ask - what was the song sung at Delhi Darbar to welcome King George V?
Here is the Bengali text and its English meaning .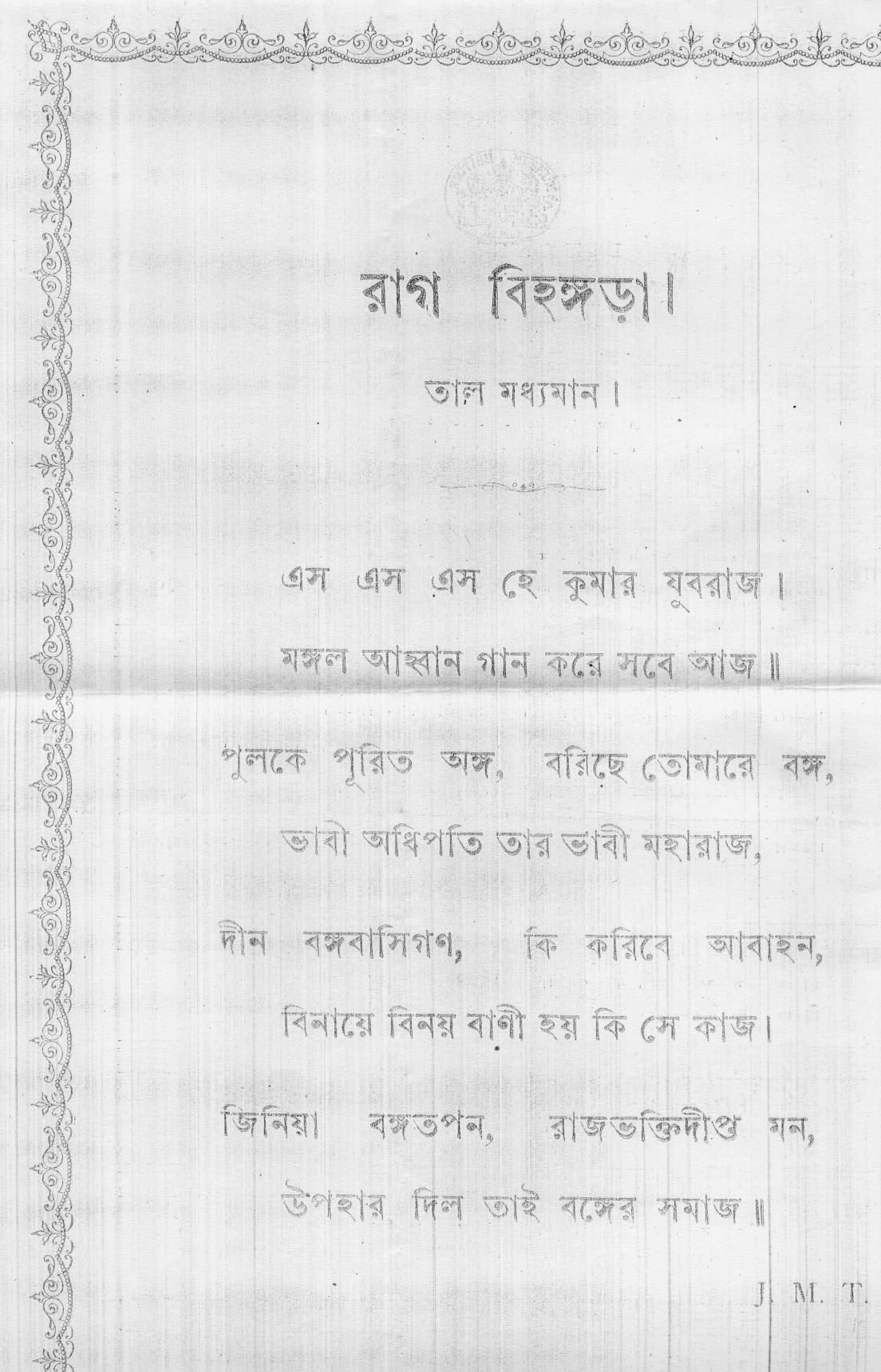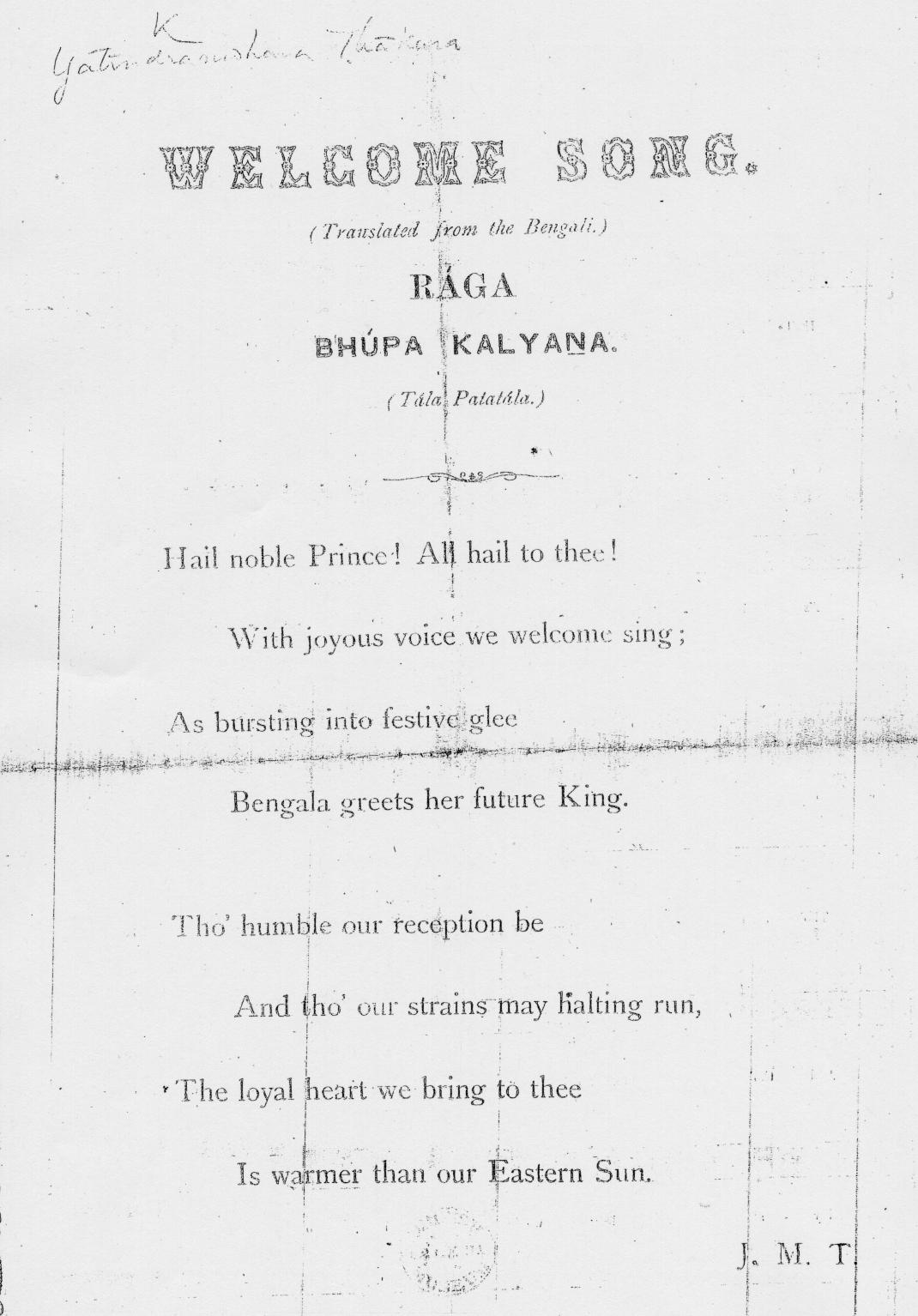 And who composed the song ? It was composed by one Jatindra Mohan Tagore (J.M.T)
Who was he? He was Ravindranath Tagore's grandfather's brother's grandson

" And finally Tagore's own interpretation in his handwriting."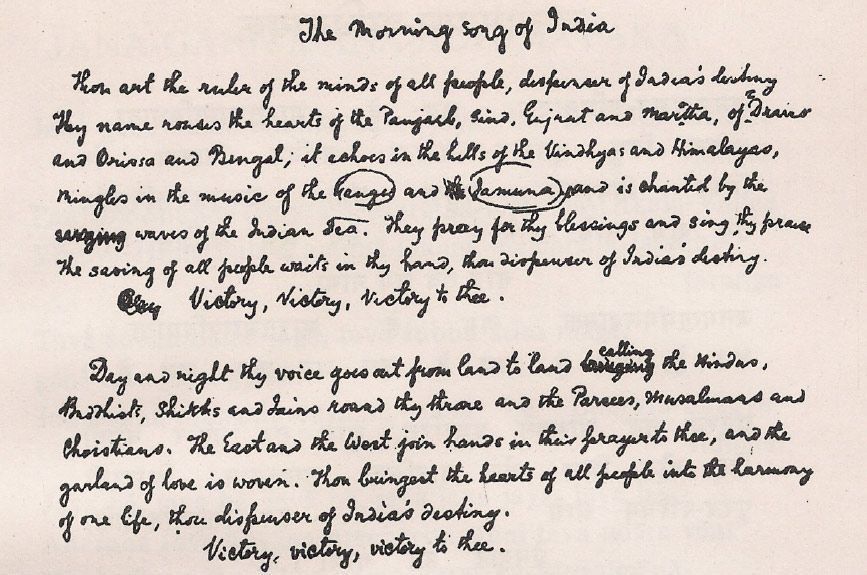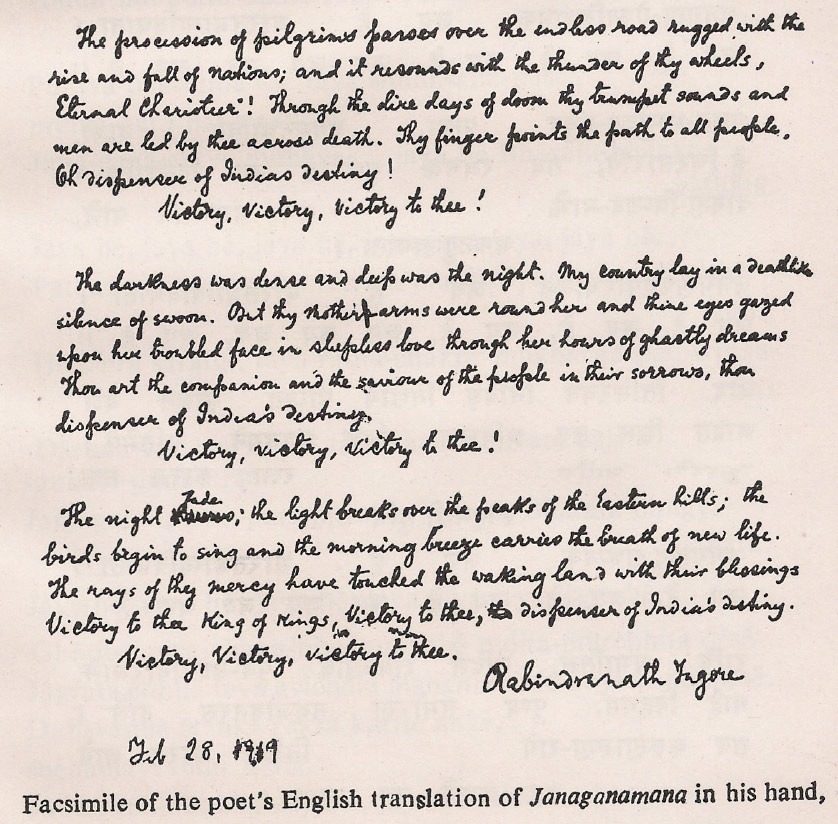 Where can you find it ?
The history of the song is narrated by Rabindra Kumar Dasgupta
in his book 'Our National Anthem',
published in 1993 by Manjula Bose,
Tagore Research Institute,
97C S.P.Mukherji Road,
Kalighat Park,
Calcutta – 700026.
See page 53.

In fact translations of all the five verses in French made by
H. P. Morris and included in A. Bake's 'Twenty Six Songs of Rabindranath Tagore'
(Paris, 1935), in German, by Helmut Von Glasenapp and included in
'Die National hymnen dey erde' (Munich, 1958),
in Italian by Rabiouddin Ahmed and included in
'Centenario Di Tagore' (Rome, 1962) have been reproduced in Dasgupta's book.

We are grateful to Dr P C Deshmukh of Chennai for providing the above information.

Further research still to be done
(1) We have to be sure about what was reported in Newspapers of December1911.
British Library, London holds microfilms of the following papers –
Title Ref No
Bengalee of S N Banerjee SM 81
Mahratta of Tilak SM 5
Amrit Bazar Patrika SM 15
Times of India SM77
Tribune SM13
Capital (1898-1946) SM 203
Englishman (1834-1934) SM 49
>> The library also holds microfilms of Times (of London)
From these we can establish what was reported, instead of speculation.
* They also have Times ( of London) annual index - Humanities I (HUR 072.1)
Under the heading India one can look for Delhi Darbar and get relevant dates / page numbers.
We also find India - National Congress 27/28/29 December 1911
** The Historical Record of the Imperial Visit to India, 1911, published by John Murray, London in 1914 under the authority of the then Viceroy of India.
Five copies –
ORW.1988.a.1749 (457 pages)
9X22/6497DSC
556*e.10
W4057 Oriental collection (613 pages)
OP.IND/64DSC
(2) " 1912 was an eventful year. Early that year he (Tagore) was given the first important public reception
of his career when Bangiya Sahitya Parishad felicitated him in Calcutta on the completion of his fiftieth
year. Two months after, he read at Overtoun Hall his famous essay, ' My interpretation of India's History', wherein he gave a prose paraphrase as it were of his 'Jana Gana Mana' song (now the National Song
of India), earlier composed for the anniversary of the Brahmo Samaj, proclaiming that India stood for unity
in the midst of diversity."
(We have to find details of this speech)
.. Later in May (1912), he sailed for England where his manuscript translation of the Gitanjali poems
created a sensation in English literary circles headed by W B Yeats.
(Ref – Dictionary of National Bibliography – Volume IV (S-Z), page 315
Edited by S P Sen, Institute of Historical Studies, Calcutta, 1974 )
Tagore was born on 7 May 1861. He was 50 year old on 7 May 1911.